MindView 7 Mac Error: MindView Quit unexpectedly
Some users have experienced issues when opening MindView Mac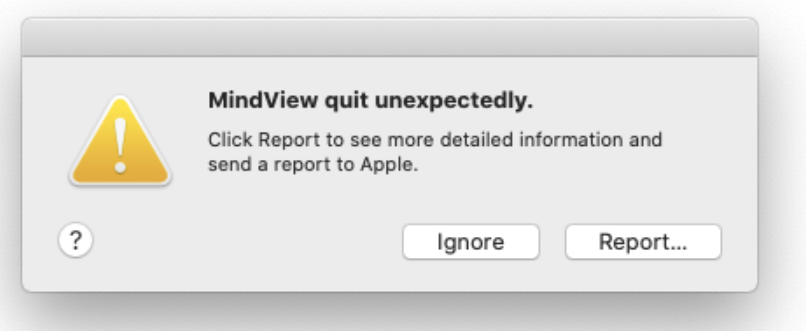 We recently encountered an issue following the latest MAC OS Security update.
A number of apps were effected including MindView. The MatchWare developers released a service pack update to resolve this issue. Also included in the latest service pack:
• Fixed crash occurring on start.
• Improved branch title selection.
• Improved Text Notes.
• Improved export to PowerPoint.
• Fixed issues related to losing pictures inserted in Text Notes.
• Fixed screen capturing in full-screen mode.
• Fixed permission issues preventing non-administrators from activating the product.
• UI/UX improvements.
Click the link below to download and install the update:
MindView 7 Mac
MindView 7 AT Mac
For more details on the Update please click here.
If the MindView Version installed on your device is lower than build 505, then please also download & install the new update above.